Codivit E + Se 5L


45% sale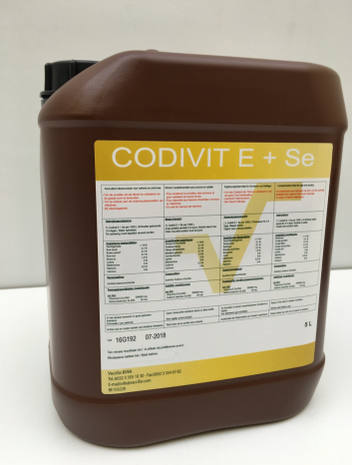 Product description
Codivit E + Se is a supplementary animal feed for poultry and pigs in the form of a drinkable
vitamin mixture.
- To improve the condition of the animals and to keep their shape.
- To meet the maintenance needs of vitamins.
- In case of vitamin deficiency.
Composition
Sorbitol, Sodium chloride
Additives per liter: (nutritional additives)
Vitamin E (3a700): 200000 mg
Sodium selenite, Se (E8): 50 mg
Analytical components:
Moisture content 30%
Crude protein 0.1%
Crude fiber 0.1%
Crude fat 0.1%
Raw ash 1.5%
Lysine 0%
Methionine 0%
Sodium 0.5%
Calcium 0%

Target species
Poultry and pigs.
Dosage and route of administration
1 liter of Codivit E + Se per 1,000 liters of drinking water for 3-4 days
Codivit E + Se can easily be mixed with water.
The solution must be refreshed daily.
Product specifications
Article number

100201

SKU

100201

EAN

7439630326335

Weight

5200